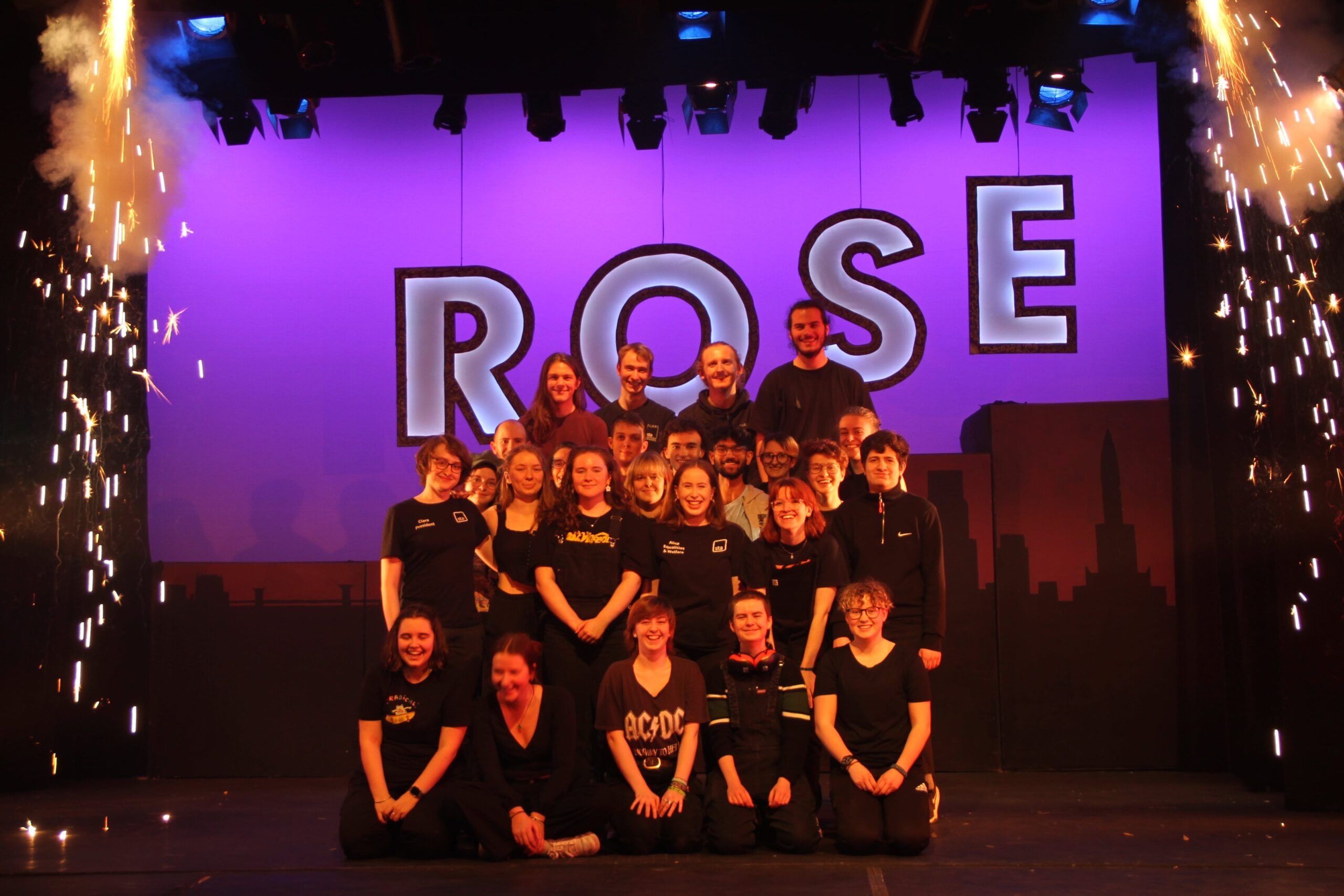 The STA (Stage Technicians' Association) is one of the oldest societies at the University of Bristol Students' Union (Bristol SU), with over 25 years of providing technical services to the performing arts societies at the University.
We are a group of about 30-40 core members with a committee of around 10, all of whom enjoy getting involved in putting on events, shows and gigs. Although some of our members join with prior knowledge of technical theatre, such as from school experiences, many members join with no experience at all.
Any member of Bristol SU (student or public alike) is welcome to join, and our membership and all our activities are free.
Life in the STA
Take a look behind the scenes during one of our shows to get a taste of what we do.
What do we do?
We provide the technical expertise to design, construct and run most term-time shows put on in Bristol SU by performing arts societies, including Dance Society, Dramsoc, Musical Theatre Bristol, Spotlights, PantoSoc – the list goes on.
Typically, this means that we run around 9 large productions a year in the Winston Theatre, and 7 or 8 in the Pegg Theatre, with a few events in the Anson Rooms.
We also support other events around the Union, in halls of residences and other student events around Bristol, as well as run our dry-hires business, hiring out equipment which is not in use.
When we are not in the theatre, we also run regular social events, including trips to the pub, theatre, Christmas dinner, summer barbeque and much more.
A 209-seat capacity proscenium arch theatre, complete with a fly, half-fly, hemp and winch bars, orchestra pit and dressing rooms, showcase shows from societies are usually put on here.
The Pegg is our flexible black-box studio space. With up to a 70-seat capacity, the venue can host a wide variety of performances, from traditional setups to theatre in the round. Due to its dimensions, it is the perfect place to get stuck in with lights, sound and set thanks to it's low-height ceiling grid.
Typically used by us once or twice a year, the Anson Rooms is Bristol SU's gig venue. With a capacity of 1500+ standing, we typically crew events such as A Capella's Best of the South West competition and Big Band's Takeover.
Why do we do it?
Many societies at Bristol rely on the STA for technical support and we're always happy to help! This allows our members to interact with a huge range of genres, productions, and people.
Thanks to our exciting schedule and hands-on approach, our members quickly find themselves confident in a wide variety of skills, and we offer informal training in Stage Management, Lighting, Sound, Carpentry, and much more. Almost all of this training is "on the job" training, where our more experienced members help teach in their areas of expertise.
The relationship that we have with these societies and our members allows us all to be part of productions that continue to shine as some of the most exceptional student theatre in the country. We strive to bring the opportunities of technical theatre to as many people as possible to share these experiences.